Archive for the 'performance' Category
See also Andy Warhol eats a burger.
Heidi Edström – Cumbersome Dough
performance, 2017
Soare Szende #be happy (#legyetekboldogak)
March 8 2017, International mother's day
Seclerland, Romania

Vargyasi Levente – Frédi
2017

Klasszikusnak álcázott, de valójában rendhagyó színházi túrát szerveznek a sepsiszentgyörgyi Tamási Áron Színház művészei a Játék Évében.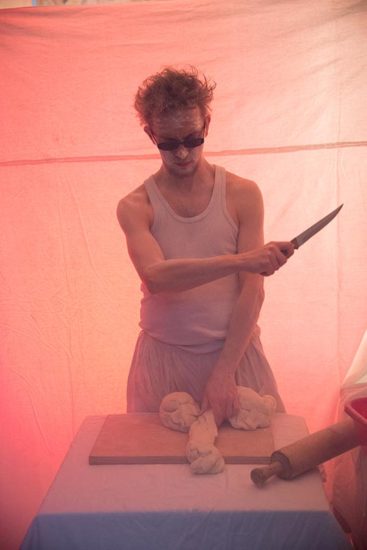 Anna Homler – Breadwoman
Los Angeles, USA
While you all may be obsessed with the brief Internet sensation that was "BreadFaceBlog", just know that long before virality was a "thing", there was an eternal character known as Breadwoman. Emerging from the depths of LA's underground art gallery culture in the 80s, Breadwoman is a timeless, avant-garde character combining ephemeral electronica with anthropological inclinations — and it's about time she's risen again, hollowed-out bread on her head and all.
Alexandra Zierle & Paul Carter – Perls of sustenance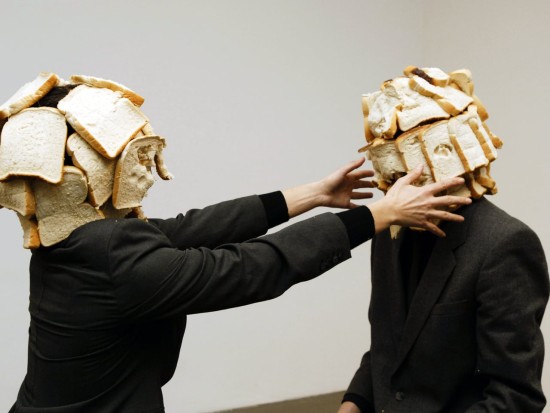 They have many bread related performances, check their website.
The leftover – Ziggurat project

Living expo
 – April 7, 2015
Location: RoHAM Bar, Dohány street 22, Budapest, Hungary, 1074
more info about this event here
On 7 April, a living traveling exhibition will kick off on the theme of Hungary as homeland and emigration.
Stay or leave, and if you live you do it for adventure or forced to do?
Live exhibition with performances of artists, dancers, actors, musicians and poets. Personal opinions from different angles.
Dennis Oppenheim – Cancelled Crop
1969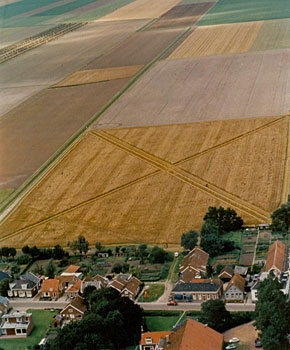 In September the field was harvested in the form of an X. the grain was isolated in it's raw state, further processing was withheld. The material is planted and cultivated for the sole purpose of withholding it from a product- oriented system. Isolating this grain from further processing (production of food stuffs) becomes like stopping raw pigment from becoming an illusionistic force on canvas.
2008, Caracas, Venezuela
Durational performance (5 hours)
Photos: Ignacio Pérez Pérez
John Beagles and Graham Ramsay – Burgerheaven
November 06, 2002
perfromance, installation
Burgerheaven explores aspects of consumer culture and desire, focussing on the cult of celebrity and fast food. Beagles and Ramsay will construct an installation that resembles a fully operational fast food restaurant with a video component at YYZ. The opening night will feature a performance by Beagles and Ramsay. Beagles and Ramsay will present an artist talk discussing their practice with specific reference to contemporary Scottish and British artists. (source)