Archive for the 'object' Category
BBB Johannes Deimling – What's in my head (Was in meinem Kopf ist)
k-salon, D-Berlin 2009
Duration 32 minutes
"Description of action Similar like the structure of a collage I combine different small actions into one image: Throwing stepp by step red powder on my barefooted feets; putting wooden wings into a roll; slapping with my hands in my face; building up a tree from cardboard, dripping wax from candles (Y,O,U) on my breast, sticking papers in the shape of a "B" on the cardboard branches; hanging up a wooden puppet on the tree; creating a nest and putting small toy-tanks into it; tying a bread on my face, sticking forks into the breadhead, creaming my breadface, throwing red powder on it; spilling noodles letters over the audience; exploding the roll with the wooden wings. "  More images from the artist's website
BBB Johannes Deimling – UFO
Object used in different Performance
Dayton Castleman – BreadBird
2007
bread, steel
7 x 6 x 4
An inquiry as to whether birds would eat bread in the shape of their own. In this case, Chicago pigeons would not.
Adam Sheldon – Crucifixion
Made for Anglican Church of St Peter
Great Limber – 2010 Jan.
burned toaster bread
Using his toaster, the artist burned every piece of bread before drying them out and flattening them so they were ready to be positioned in a giant frame. He then spent hours scraping the toast with a knife to create the lighter parts of the image, such as Christ's halo, and a blow torch to create darker patches. (read more here)
Photo: MASONS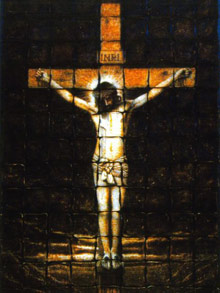 Monika Koziol – Breadboard
Made at Central Saint Martin's College of Art and Design London – 2008 Oct.
wooden with laser etched letters
Breadboard was part of presentation that Monika had to give at the university as her favorite piece of design – she chose bread, as the greatest invention ever. Text on the board links basic ideas of what makes one happy and some facts about bread.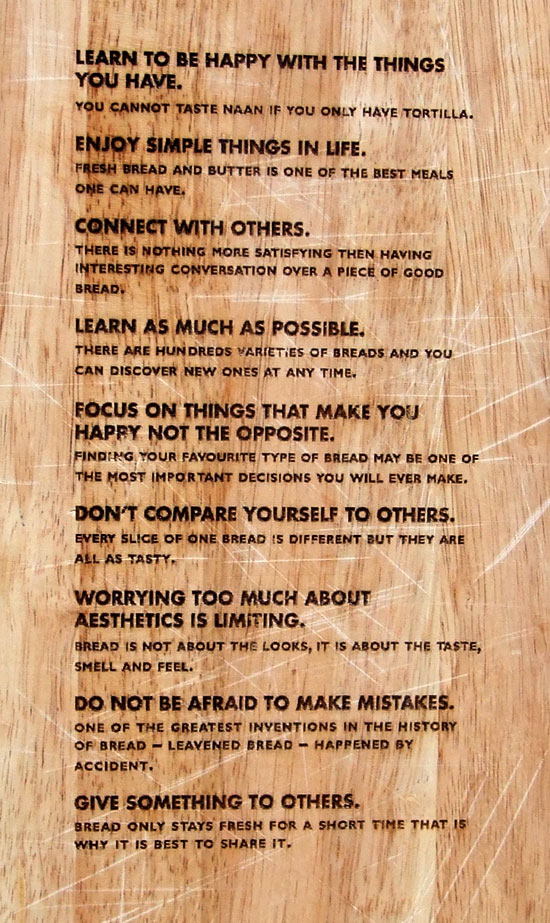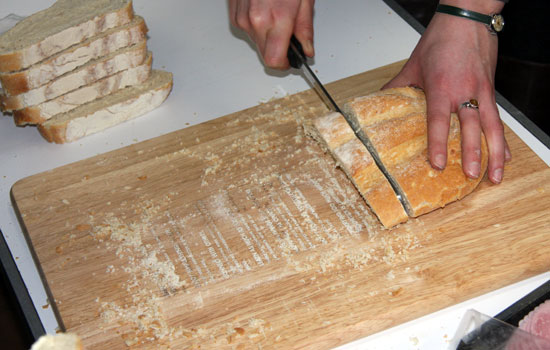 Mladen Stilinović – Works with food

object  -  1978 -2009, artist born in Belgrade. Lives in Zagreb
exhibition: 11′th International Istambul Biennial
"Since the mid-1970s, Mladen Stilinović has developed artistic strategies using 'poor' materials. His works are simple in their execution and engage with such subjects as pain, poverty, death, power and the language of repression, as ongoing and mutually connected conditions. Usually the title is inscribed into the work itself, for example, in a series dealing with food: Geometry for the poor, Cabbage, Borecole, Potato, Bean, Leek, Corn, Cakes, I bite myself, I devour myself, Eat yourself, Bite yourself and Charge, cakes!" – text source
photo credit: Estefán Arnold
Burak Kaynak - Sliced Bread//Notebook
product design
A funy product made by a turkish creative director. There are 12 slices like the months so a 1 year sketches can be packed and archived as a bread.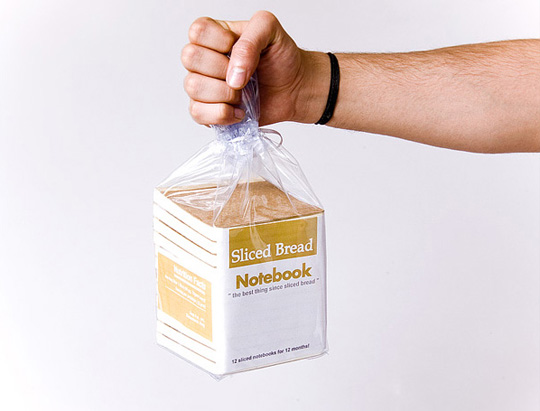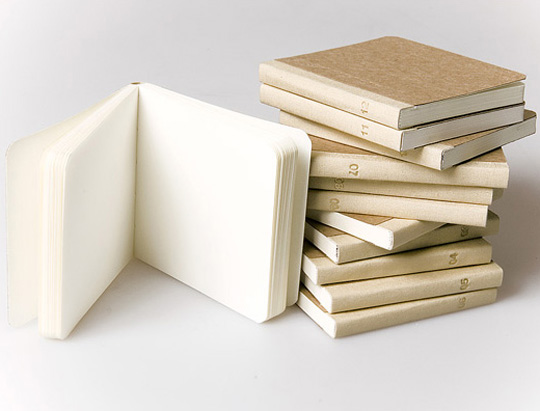 The project webpage here.
Molnar Krisztina – Crater in a home-made bread

ready-made -  2009
location: Timisoara/Banat/Romania hardware: Moulinex Home Bread baker: Csiki Zsolt
The big crater/hole in the center of this home-made bread was created accidentally. It is like the Kinder Surprise toy but there is nothing inside, and Ajna still like it. Maybe, this paranormal phenomena was done because the name of the artist "Molnar" in translation means miller.
(Editorial note) I imagine myself 20 times smaller inside of a crater like this when the bread is baking – that hot smmmmmell concentrated in one place, and I sprinkle a bit of butter on the interior wall. Actually if we bake a large scale bread, this idea can turn into a luxurious sauna for rich people and the byproduct (bread) can be eat by poor people – after the sauna is over, and the bread is cold.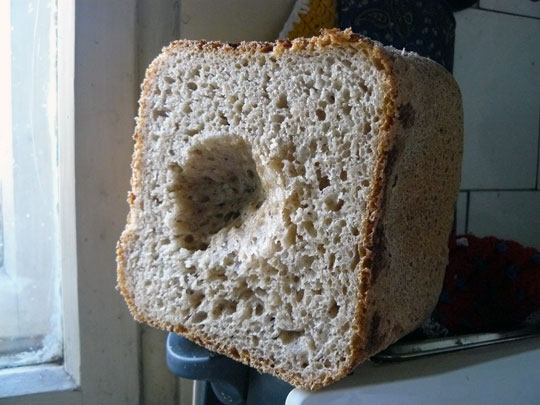 Thomas Thwaites – The toaster project

product design – ongoing project
This guy is trying to build a toaster, from scratch beginning by mining the raw materials and ending with a product that Argos sells for only £3.99.  Follow his hard work here.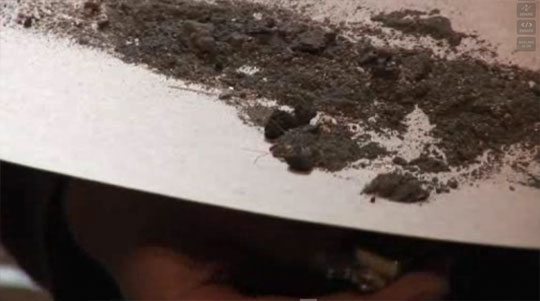 with a magnet under the paper he separates the iron from the rest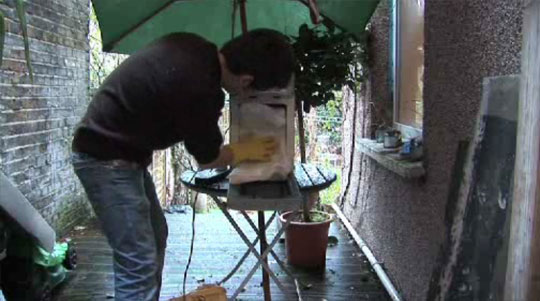 Microwaves for melting iron? yes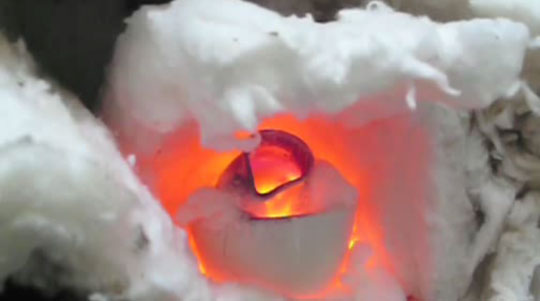 after 30 minutes at full power, the iron is melted
Vetró Barnabás – Me rhino

photo-action -  2009 made in artist's home, Saint George/Seklerland/Transylvania/Romania
We are allowed to play with the food. The man is free or at least he should be. In this region people have different belief about playing with food, we learned from our ancestors that some things can't be approached in a profane way.
This work destroys this belief, like the  ad-hoc bread fight at the end of the nineties – at one of the UdvARTer exhibition's party where they teared a few home made bread and made a long tiring bread fight. Barnabás's blog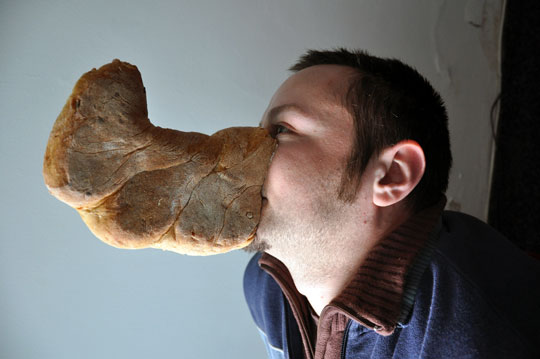 photo: Roth Enikő