Archive for the 'install-action' Category
Koter Vilmos – Covered with bread (Hu. Kenyérrel betakarva)
2013, Csíkszereda, Romania
www.kotervilmos.com
photos: Szabó Zsolt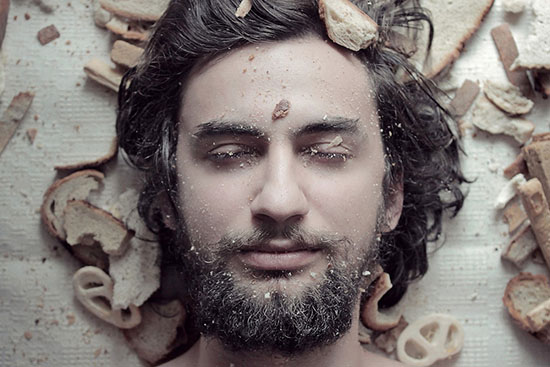 Egyptian protester with bread helmet
2011  
About making bread and revolution in Egypt.
image source
———————————————————————————
Street-artist 'Ganzeer' and other activist-artists
Mural  Cairo, Egypt – 2011
A mural portraying a bicyclist holding a tray of bread, a familiar food in Cairo known as aish, a word that also means "life." Facing off the bicyclist was a tank with a soldier in the gun turret, aiming at the bread.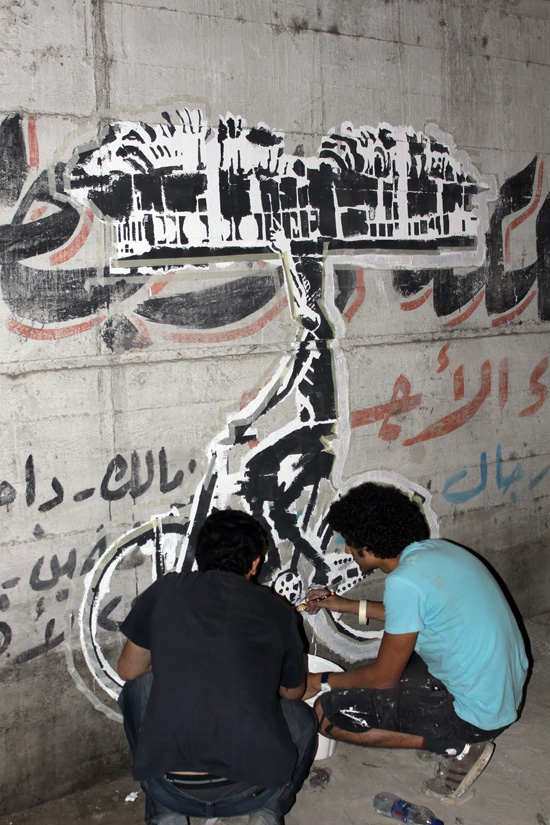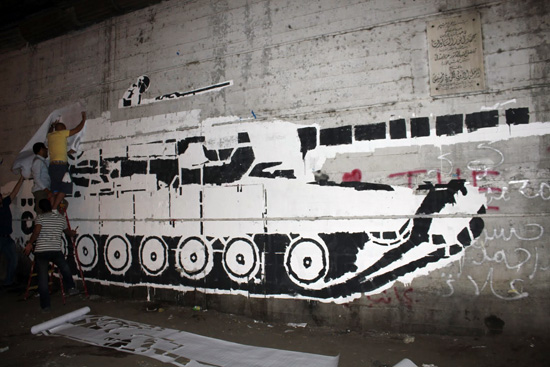 images source
Ion Grigorescu – Pyjamas
1978-Bucharest, Romania series of 4 black and white silver prints courtesy: the artist and Galerija Gregor Podnar Berlin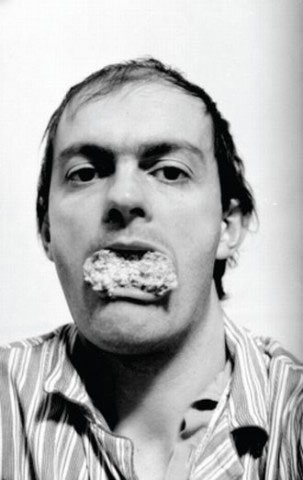 Erőss István – Box
2009 Aug. – Szárhegy/Transylvania/Romania
Csurka Eszter – bread-sculpture action
2003. október 19. Budapesti Õszi Fesztivál / Fogyasztható mûvészet – ZabArt Várfok Galéria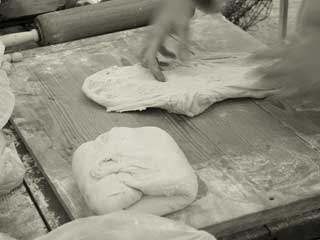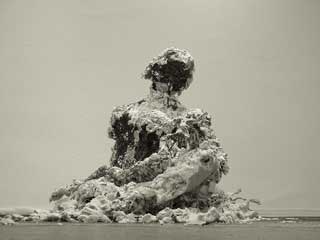 Photos by
Sárközi Csaba
During a whole day, under a tent big pieces of dough are stretched on steel frame shaping mans, womans and children then they are place in furnace to be baked. When the bread persons are baked well the public start to consume step by step, so all what remain are the steel wire frames.
It can be interpreted as a human being, who has a rigid frame covered with this living hot material – bread. It has it's on life till it is consumed by itself.
At the same time it can be viewed as a relation between sacred and profane, between the artwork as creation and the consumer who eagerly wants to own everything if is possible inside him. After destruction he realizes what have he done.
The text is translated by me from Encz Sarolta's text written in Balkon – contemporary art magazine Hungary
Robert Doisneau – Picasso and the loaves
photo  –  1952
location:
pottery village  in the hills above Nice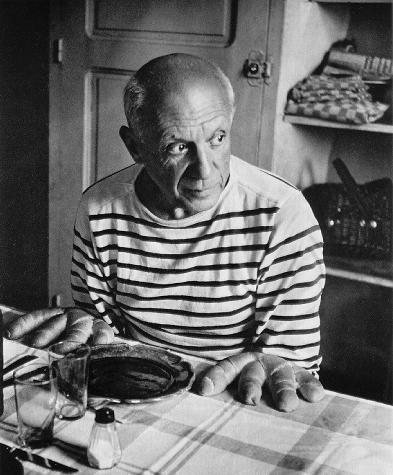 image copyright by
Robert Doisneau
Váncsa Domokos – Self-portrait with two sekler potato bread
mixed technique – 140 x 80 x 50 cm 2009 –  Timisoara, Romania
Nemere Kerezsi – Bread Head
2006 june – Oradea/Partium/Romania