Eat my heart out
Sejla Kameric – Eat my heart out
Public project, Manciano, Italy
16 March 2002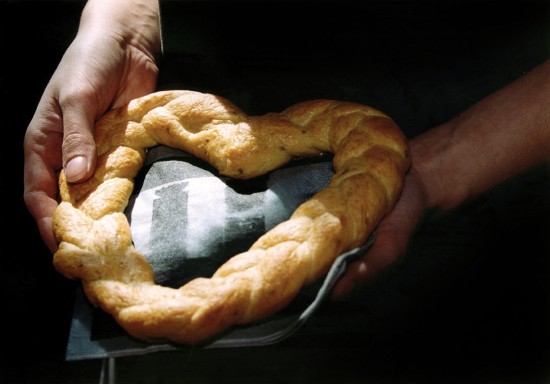 Text taken from the artists website:
"Dedicated to the memory of my father who was killed in
Sarajevo on the 16th March, 1993.
An exhibition / public art project was opened on 16 March 2002 in the small town of Manciano, Italy. In the streets and in the main square, Manciano residents set up tables on which were served local wine and culinary specialties. In addition to all this food, visitors could also try heart-shaped rolls that were prepared by a local bakery according to my instructions. The rolls were served on napkins that were printed with photographs taken in Sarajevo between 1992 and 1995 – these images were taken from the documentary film, "Do you remember Sarajevo." That day, over food and drink, with mixed feelings of happiness and sadness, we spoke of love and war, life and death; and we remembered Sarajevo. Photographs documenting this work are still displayed in the bakeries of Manciano."
Tags: heart
This entry was posted on Monday, January 9th, 2012 at 5:26 pm and is filed under happening, object, product. You can follow any responses to this entry through the RSS 2.0 feed. You can leave a response, or trackback from your own site.