Crucifixion
Adam Sheldon – Crucifixion
Made for Anglican Church of St Peter
Great Limber – 2010 Jan.
burned toaster bread
Using his toaster, the artist burned every piece of bread before drying them out and flattening them so they were ready to be positioned in a giant frame. He then spent hours scraping the toast with a knife to create the lighter parts of the image, such as Christ's halo, and a blow torch to create darker patches. (read more here)
Photo: MASONS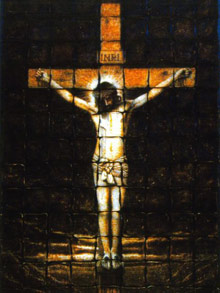 Tags: burn, cross, jesus, toast
This entry was posted on Tuesday, January 19th, 2010 at 1:47 am and is filed under installation, object. You can follow any responses to this entry through the RSS 2.0 feed. You can leave a response, or trackback from your own site.