Edible humans
Csurka Eszter – bread-sculpture action
2003. október 19. Budapesti Õszi Fesztivál / Fogyasztható mûvészet – ZabArt Várfok Galéria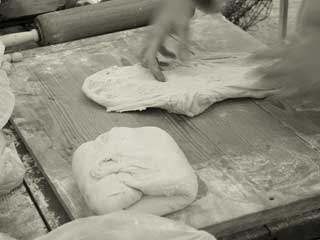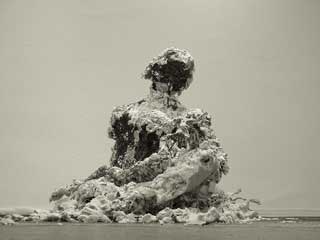 Photos by
Sárközi Csaba
During a whole day, under a tent big pieces of dough are stretched on steel frame shaping mans, womans and children then they are place in furnace to be baked. When the bread persons are baked well the public start to consume step by step, so all what remain are the steel wire frames.
It can be interpreted as a human being, who has a rigid frame covered with this living hot material – bread. It has it's on life till it is consumed by itself.
At the same time it can be viewed as a relation between sacred and profane, between the artwork as creation and the consumer who eagerly wants to own everything if is possible inside him. After destruction he realizes what have he done.
The text is translated by me from Encz Sarolta's text written in Balkon – contemporary art magazine Hungary
This entry was posted on Saturday, November 14th, 2009 at 8:27 pm and is filed under install-action, installation, performance, product. You can follow any responses to this entry through the RSS 2.0 feed. You can leave a response, or trackback from your own site.