VB65
Vanessa Beecroft – VB65

live performance  –  2009 March ,
location: PAC (Padiglione d'Arte Contemporanea)- Milan duration:3 hour
Vanessa's performance Vb65 is  a  "Last Supper" of  20 African immigrants, legal and illegal, dressed in suits, eating chicken and bread without cutlery, drinking water from the carafe without glasses.  After they finished the meals I see more defencelessness in their eyes than satisfaction. Even the 12 meter transparent table gives the "you can't hide" feeling.
I'd like to find out what were they thought about in that time.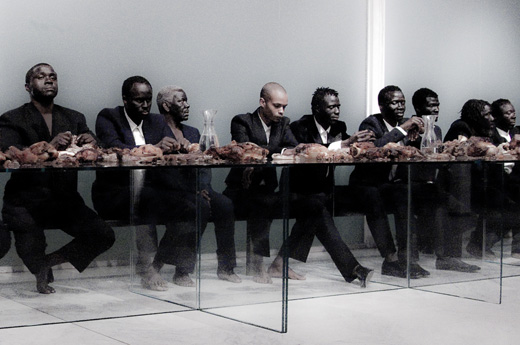 all the images above are made by
yuricrea
Tags: black, chicken, glass, suit
This entry was posted on Saturday, August 29th, 2009 at 2:12 am and is filed under performance. You can follow any responses to this entry through the RSS 2.0 feed. You can leave a response, or trackback from your own site.