Supermarket breads
Vancsa Domokos

thought – 2008 June
Several time when I left my home Saint George for a longer period,  one of the missed "object" was the bread – a traditional one, made from wheat and potato in Bodok, a village near the town. I am thousands  kilometers away from home, my parents can't send me "the bread" so every day I buy other ones here in Ireland, mostly form supermarkets like Tesco. The racks are full and you should have to choose from, but there is nothing similar to my favorite one, and I still didn't find a substitute.  I stay always more at bread section and try to get down one. I saw other eastern European figures who also search and hope that they will find the "home-bread" in this foreign supermarket.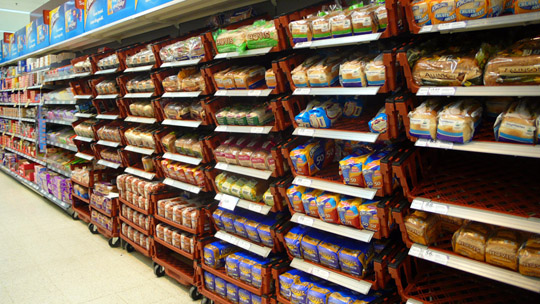 images by
yisris
Tags: eastern europe, supermarket, tesco
This entry was posted on Sunday, June 21st, 2009 at 12:43 am and is filed under writing. You can follow any responses to this entry through the RSS 2.0 feed. You can leave a response, or trackback from your own site.