Me rhino
Vetró Barnabás – Me rhino

photo-action –  2009 made in artist's home, Saint George/Seklerland/Transylvania/Romania
We are allowed to play with the food. The man is free or at least he should be. In this region people have different belief about playing with food, we learned from our ancestors that some things can't be approached in a profane way.
This work destroys this belief, like the  ad-hoc bread fight at the end of the nineties – at one of the UdvARTer exhibition's party where they teared a few home made bread and made a long tiring bread fight. Barnabás's blog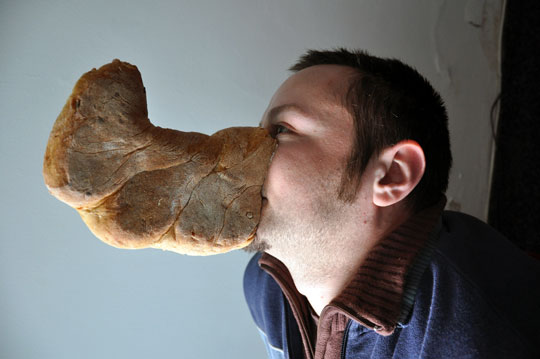 photo: Roth Enikő
This entry was posted on Monday, April 27th, 2009 at 1:22 am and is filed under object, photo. You can follow any responses to this entry through the RSS 2.0 feed. You can leave a response, or trackback from your own site.