Cross in Bread
Előd Izsák – Cross in Bread ( "Kenyerbe vetett kereszt" – from  hungarian)
video installation –  2006 exhibited in Oradea – Transylvania/Romania bread was made by the artist's mother in Egerpatak – Seklerland/Transylvania/Romania
Under the bread on a TV-screen a loop video can be seen with a rotating cross graved on the bread-crumb.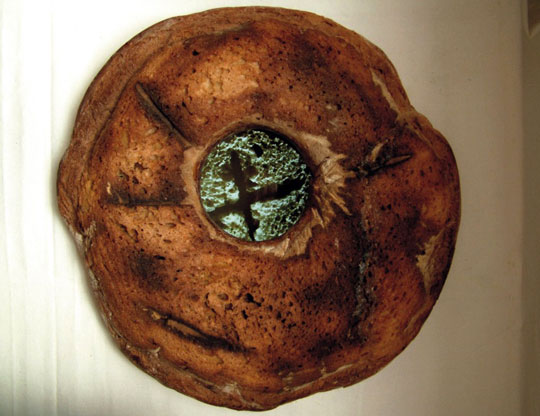 The bread's shape reminds us to the millstone. The rotation of the cross reminds us to an increasingly forgotten ancient tradition – the blessing of the bread (in the bread)
Tags: blessing, cross, egerpatak, faith, millstone, rotation
This entry was posted on Thursday, April 23rd, 2009 at 3:31 pm and is filed under installation, object. You can follow any responses to this entry through the RSS 2.0 feed. You can leave a response, or trackback from your own site.